Questions and Answers
What is TPHO?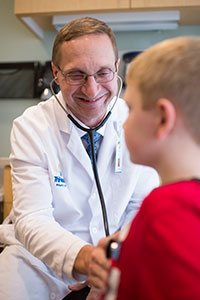 The TriHealth Physician Hospital Organization (TPHO) is a clinically integrated organization committed to providing high-quality, cost-effective health services to the patients it serves. Within TPHO are employed and aligned independent physicians who will participate in joint hospital/physician contracting and align economic incentives for improvements in cost, quality and efficiency by establishing common care management models and shared information infrastructure.
1. What is Clinical Integration?
Clinical Integration is an active and ongoing process to evaluate and modify practice patterns by the program's physician participants and create a high degree of interdependence and cooperation among the physicians to control costs and ensure quality1. Participation in an effective clinically integrated network will provide TPHO members the ability to contract collectively with health plans without violating antitrust laws.
1Statements of Antitrust Enforcement Policy in Health Care Issued by the U.S. Department of Justice and the federal Trade Commission, August 1999
2. What are the advantages of TPHO members?
Provides a vehicle for participating hospitals and physicians to manage population health and better coordinate care across the full continuum
Drives high-quality, cost-effective care delivery through promotion of evidence-based care standards and decision support tools, and reduction of unnecessary variation and utilization
Provides an attractive model for participating physicians under a common infrastructure (e.g. quality, efficiency, care management)
Allows participating physicians to align economic incentives for improvements in cost, quality and efficiency for the evolving reimbursement models
3. Who are the participating hospitals?
Good Samaritan Hospital, Bethesda North Hospital, TriHealth Evendale Hospital, Bethesda Butler Hospital
4. As a member of the TPHO, which contracts are available to me? Do I have to participate in all of them?
TPHO plans to execute fee-for-service, surplus sharing and risk-based contracts with commercial and government payers and make those contracts available to its members. Each member will then have the ability to choose which contracts they participate in. Members will not be required to participate in a minimum number of contracts, and those who choose to opt out of a payor/TPHO contract are not prohibited from entering into a direct contract with that same payor.
5. As a member of the TPHO can I participate in other ACOs/PHOs/IPAs?
Primary Care providers who become TPHO members may not participate in another competing ACO/PHO/IPA.
Specialists may participate in other ACOs/PHOs/IPAs individually or through a group practice.
6. Can I refer to any physician, facility or other provider within any health system?
In order to realize the benefits of being a clinically integrated organization, providers must refer patients only to other participating providers with few exceptions: patient preference, payor requirements, provider judgment.
7. How do I confirm the contracts I participate in through TPHO?
Any questions related to the TPHO value based contracts or roster updates can be directed to: TPHOProviders@TriHealth.com
8. Can I admit to participating hospitals?
Yes, if you have appropriate medical staff privileges.
9. Is there a cost to join or maintain membership in the TPHO?
There is no cost to join the TPHO and no annual dues. The TPHO may retain a portion of future earned surpluses prior to distribution to help offset operating cost and expenses and establish reasonable reserves.